PRINCESSdie is a multimedia artist who works closely with current events to reflect tomorrow and today, collaborating with various people of different disciplines; music, art, science, and technology from all over the globe. PRINCESSdie explores our past, present and future human impact on the world through interdisciplinary and collaborative practices including, video installations, dynamic websites, animated gifs, photography, music, performance, and art sabotage pulling content from various sources including the Internet, historical and current source material;
PRINCESSdie weaves the complexities of the world
It's a known fact! One of the many gifts of PRINCESSdie is the way she can transform matter into miracles. With her super perceptive radar laser eye beams, PRINCESSdie hunts for these matters and transforms them under tight Super Visual GhettoTech regulations into spectacularly re-newed deities so that they may miraculously have another chance at existence. In otherwords, eveything is recycled, RECYCLED ART!
part of the Super Visual GhettoTech construct, SWEAT2die.
Princess Die is also a voice for awarness. Die can help you break free from the fears ridding the allegiance to a ruler, prison, government, or belief.

NAME: PRINCESSdie, La Princessa Muerte,
Princess Die, Lady Die, die
MOTTO: its just an illusion
SIGN AGE: Water/Fire Dragon
HEIGHT: varies with dimensional positioning. Princess Die was once twice the size of Godzilla and ten times smaller than an atomic ant in the 5th dimension. On earth she is measured to be 7 feet (not counting her horns).
BIRTHPLACE: born from the forehead of the Gods.
ORIGIN:En el otro dimenscione in another time, la PRINCESA de muerte came 2 existance when the gods were having trouble battling off a demonstrous beast that not be killed by man, beast, demon, machine, or god, who was destroying all the dimensional universes that you could hold in your hand.
OCCUPATION: tM5 superhero art star + exorcise instructor + marial artist +
spiratual teacher +screen printing god + curadora + installation master
+ revolt2die + sweat2die
La PRINCESA de muerte aza suete si cruzados caminos.
WEAPON: son un curadora y matter transformer Princess die is knowledgeable in all fighting forms from around the earth and other dimensional planes. Some have witnessed the various skills using these instruments: poketo knife, razor blade, stick, dagger, floating knife, spear, dragon staff, electric key board, unicorn horn, nine teeth, Guan Yu's guan dao, tiger fork,
church organ, satan star ax, and rope with wieght on the end of it.
Watch Out! Princess Die can cause fatal suffering and/or healing with the simple touch of her finger.
FAVORITE FOOD: super dark sangre choco bars
FAVORITE COLOUR: fresh bloody red + dried scabby red + gold
HOBBIEs: demolition poker, ROCK paper sissors, the hand thing, and SWEAT2DIE
zurc al ed laÑes aL

REVOLT2DIE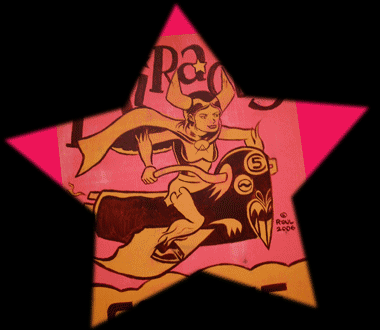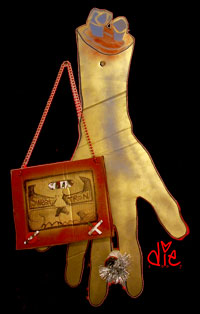 the MADRINA of
SUPER VISUAL GHETTOTECH!
SWEAT2DIE
myspace.com/princess_die